Herb of the Month: Bay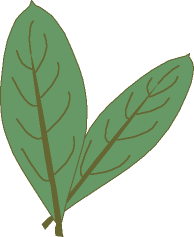 The bay tree (Laurus nobilis) is an evergreen tree/shrub native to Asia Minor and the Mediterranean region. It is also known as sweet bay, bay laurel, noble laurel, and true laurel. Early Greeks and Romans attributed magical properties to the laurel leaf.

Bay leaves are often used in dishes that require slow cooking, such as stocks, soups, stews, pasta sauces, casseroles, pickling spice mixtures, and seafood boil spice mixtures. It's pungent quality is best in moderation; overuse of bay leaves can make foods bitter. Bay leaves should always be removed from dishes before serving to prevent people from accidently eating them.
Bay leaf is also an essential ingredient (along with parsley and thyme) in a bouquet garni. To make a bouquet garni, tie together a bay leaf, parsley, and thyme (and any other desired herbs) or place in cheese cloth and tie. The bouquet garni is cooked with a stew or sauce and removed before serving.

Tip of the month: Before baking potatoes, cut a slit in each potato and put in a bay leaf. Bake as you normally do.
Traditional medicinal usages:
Aid to digestion; helps to eliminate cramps and flatulence; also used as a blood cleanser, for liver problems and kidney stones; cleanses poisons and bites; increases circulation; boosts immune system.
Crafts:
Bay leaves can be used to make a simple wreath or combined with other herbs in crafting topiaries. Bay leaves also add a spicy fragrance to potpourri. (Bay oil, sometimes called for in potpourri recipes, is distilled from the West Indian bay, Pimenta racemosa, which also lends its fragrance to bay rum aftershave.)
Other uses:
A whole bay leaf will keep weevils out of stored flour and other grains without flavoring it. Bay leaves can be crushed and used as an insect repellent.
Cultivation:
The bay tree is a tender perennial, hardy to about 20 degrees F. In Wake County the plant must be over wintered inside, preferably in a greenhouse. Bay is usually grown from cuttings that root slowly. It is a slow grower that prefers a sunny location and a soil with a pH of 6.2. California bay, Umbellaria californica, is more strongly flavored than true bay but can be used as a substitute in halved amounts. It is hardy to 0 degrees F.
Recipes featuring bay leaves:
Savory Beef Pot Roast with Bay Leaves
Herbed Vegetable Chowder
Pasta with Zucchini Sauce